Main content starts here, tab to start navigating
This is an archive of our menu from before March & the Covid-19 shutdown.
Please see our Order Online Menu for current pickup & delivery options.
Raw Bar
Jar of Clams

$8

Half Dozen Clams

$16

Half Dozen Oysters

$21

Snow Crab Legs

$22

The Dogbowl

$75
Starters
Wedge Salad

Charred Iceberg, Blue Cheese, Bacon, Candied Nuts

$15

M. Wells Caesar

Smoked Herring Dressing, Croutons, Cheese...More Cheese*

$16

John's Gundy

Potato Waffle, Pickled Smelts, Crème Fraîche, Roe, Dill

$16

Geoduck Salad

Tomato Pureé, Roasted Peppers, Sotol

$18

French Onion Soup

Gruyere, Braised Oxtail

$18

Steak Tartare

Lemon Rice, Macédoine Mayo

$18

Bone Marrow Escargots

Red Wine Jus

$19

Foie Gras Terrine

Pain d'Epices, Duck Sauce

$22

Snowdrop Velouté

Salsify, White Asparagus, Truffles, Poached Eggs

$25
Daily Sides
French Fries

$8

Trout, No Trout

$10

Brussels Sprouts with Cherry and Bacon

$10

Creamed Spinach

$10

Pommes Purée

$10

Pommes Aligot

$12

Poutine

$12
Cheese
Cheese Plate

Chef's Selection of 3 Cheeses with accompaniments

$21

Delice

Soft, Pasteurized Cow, Fromagerie Lincet, Burgundy, France

$7

Brebis Noir

Soft, Pasteurized Sheep, Agour & Murray's Cheese, NYC

$7

Stichelton

Semi-Firm Blue, Raw Cow, England

$7
Mains
Cassoulet des Meveilles

Special from Chef Thierry Merville from Toulouse

$29.99

Stuffed Squash

Wild Mushroom Risotto, Aged Cheddar

$29

Maitake Steak/Wagyu Flank Steak

Pommes Sarladaise, Sauce au Poivre

$29

$39

Delice Cheese Torte

Mortadella, Spinach, Puff Pastry

$32

Truite au Bleu

Fresh Whole Trout, Cabbage, Potato, Tartar Sauce

$32

Duck Magret

Sunchoke Gratin, Kumquat

$33

Rib Roast of Elk

Brown Butter, Wild Berries

$45

New York Strip

Maple Bulgogi Rub, XO Jus

$52

Dry Aged Porterhouse

Pommes Aligot, Béarnaise, Sauce au Poivre

$150
Dessert
Choco-Roq

$13

Passionfruit Pavlova

$13

Pouding Chômeur

$13

Goat Cheese Panna Cotta

$13

Tiramisu for Two

$24

Ice Cream & Sorbet

$6
Cocktails
14
Hudson to Haiti

Hudson Manhattan Rye, Boukman Rhum Agricole, Walnut Syrup, Burlesque Bitters

Vesper

Barr Hill Gin, Industry City Vodka, Lillet Blanc, Regan's Orange Bitters

À La Louisiane

Rittenhouse Rye, Carpano Antica, Benedictine, Absinthe

Pedro Martinez

Mezcal Del Maguey Vida, Dolin Rouge, Luxardo Maraschino, Regan's Orange Bitters

Junglebird

Eldorado 5 Year Rum, Batavia Arrack, Campari, Pineapple, Cinnamon, and Mole Bitters

The Prizefighter

Carpano Antica, Fernet Branca, Mint, Lemon, Salt

Royal Negroni

Empress Gin, Carpano Bianco, Cocchi Americano

Milk Punch

Our house-clarified Rum and Cognac punch. Silky smooth and dangerous!

Champs Élysées

Dudognon Cognac, Green Chartreuse, Lemon, Honey, Bitters

Monkey Blood

Brooklyn Gin, Leopold Bros. Absinthe, Grenadine, Blood Orange, Lime

Machine Gun Margarita

Tequila Arette, Aperol, Dry Curaçao, Lime, Ginger, Jalapeño
Non-Alcoholic Cocktails
8
Pretty in Pink

A light citrus spritz with a touch of rose water.

Teetotaler

Earl Grey iced tea, sea breeze citrus, and cinnamon spice

The Timmy Shimmy

Creamy pineapple, orange, vanilla and spice
Cider
Descendent 'Succession' Off-Dry Cider, 12oz (Maspeth, Queens, NY)

$8

Graft 'Forest & Frost' Gose Punch Cider, 12oz (Newburgh, NY)

$8

Blackduck 'Crabby Pip' Dry Cider, 750ml (Ovid, NY)

Bottle $35

Glass $9

Blackduck 'Perry' Pear Cider, 750ml (Ovid, NY)

Bottle $37

Glass $10
Wines by the Glass
Sparkling

Cava 2015, Brut Reserva, Víves Abròs

$13

Loire 2018, Chenin Pétillant, 'Roue Qui Tourne', Marie Thibault

$16

White

Württemberg 2018, Dry Riesling, Andi Knauss

$11

Montlouis sur Loire 2018, Chenin Blanc 'La Source', Damien Moyer

$14

Colli di Luni 2018, Vermentino 'Corsano', Terenzuola

$14

Napa 2018, Chardonnay, Linda Vista Vineyard, Matthiasson

$16

Rias Baixas 2018, Albariño, Atalier by Raúl Pérez

$16

Red

Loire 2018, 'Malolactix', Le Sot de L'Ange

$14

Monsant 2017, 'Dido', Venus La Universal

$14

Ardeche 2015, Syrah/Grenache, 'Reserve' Matthieu Dumarcher

$16

Piemonte 2017, Freisa 'La Pivetta', Cascina Roera

$15

Rhône 2014, Grenache Vieilles Vignes, Clos de Centenaires

$16

Toscana 2015, 'Battifole', Querciagrossa

$18

Bordeaux (Graves) 2015, Chateau Auney L'Hermitage

$18
Beer
Draft

$8

Folksbier 'OBL' Helles Lager, abv: 5% (Carrol Gardens, Brooklyn, NY)

ICONYC 'Stareater' Milk Stout, abv: 6% (Long Island City, Queens, NY)

Big aLICe 'Queensbridge' IPA, abv: 5.7% (Long Island City, Queens, NYC)

LIC Beer Project 'Coded Tiles' Pale Ale, abv: 5% (Long Island City, Queens, NYC)

Nightmare 'Lingchi' Sour, abv: 8.1% (Farmingdale, NY)

$9

suggested bottles & cans

Short Throw 'Straight Bars' IPA, 16oz (New Haven, CT)

$8

ICONYC 'John Blaze' IPA 16oz (Long Island City, Queens, NY)

$9

Proclamation 'Tendril' IPA, 16oz (West Kingston, RI)

$10

Decadent 'Blueberry French Toast' DIPA, 16oz (Mamaroneck, NY)

$11

Kent Falls 'Trapped in Habitual Nostalgia' Blonde Ale, 16oz (Kent, CT)

$11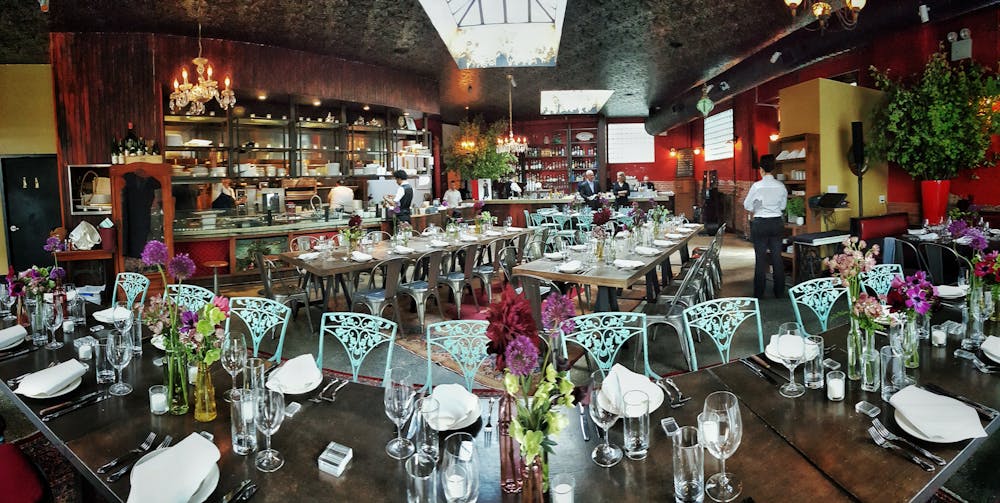 During dinner service, groups of 10 or more are encouraged to select from our family-style dining menu in advance. This allows our kitchen to accommodate your party without delay and without compromising service.
Currently, our online reservation system does not accept reservations for groups over 10. Please either call or email us to confirm your booking. For larger parties we require a credit card to be on file.
Planning a private affair? Click here to learn more.